Matt Iglesias showing once again that economics is hard. At least, it seems hard for him. Because he has been saying some remarkably ill-informed stuff lately.
Here, he argues that "corporations" should pay more.
And in fact, Matt (being smarter than anyone in business) recognizes that if they paid more, they'd make more money. Presumably, Matt could take this insight and start his own business, and grossly overpay workers. If he's right, he could make a FORTUNE, I'm telling you.
Problem: Far from falling, total cost of employment has been rising, sharply. Corporations have NOT been saving money by squeezing labor. The "
productivity wedge" that everybody whines about
(see below) is real enough. But it is due to our inability to come up with a sensible health care policy, and regulatory accounting rules that give substantial disincentives for hiring full time.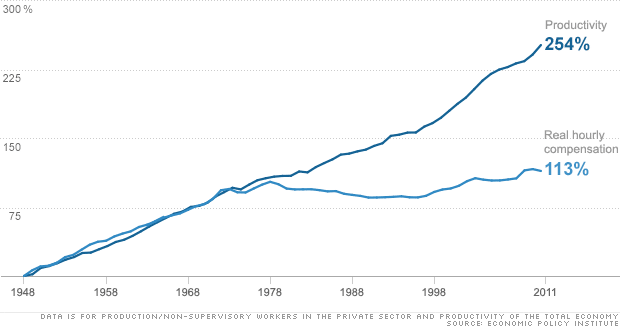 What is squeezing labor is enormous costs for medical care, pensions for older workers, and regulations that make hiring workers prohibitively expensive. You say workers are not getting pay increases? That's true. But those evil corporations are getting labor cost improvements, either.
For some reason, people ignore the second graph. It is expensive, and getting more expensive, to hire workers. The first graph simply assumes that all the "extra" profit from productivity gains is going to corporations. But it's not true.
You can look it up
.